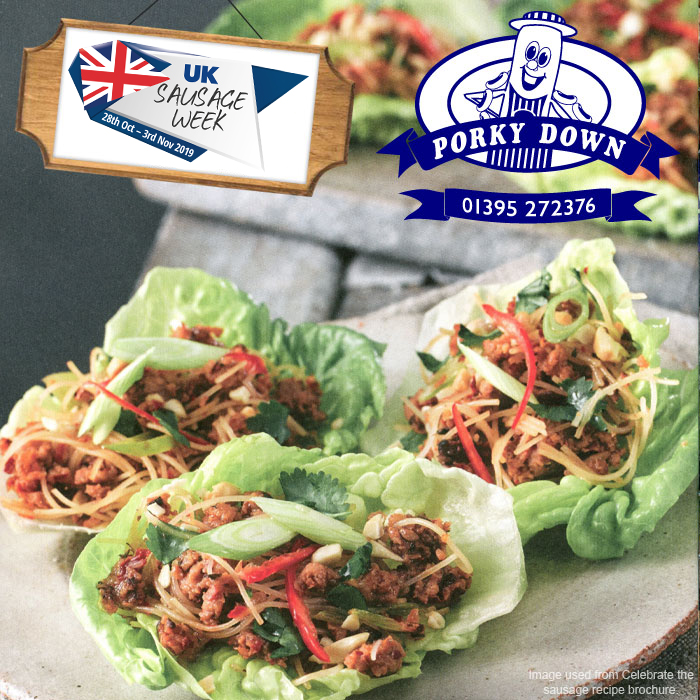 Ingredients
450g Porky Down's pork sausage meat
2tsp 'lazy' ginger and garlic paste
1tbsp soy sauce
1tbsp fish sauce
1tbsp sunflower oil
4 spring onions, trimmed and sliced diagonally
200g rice noodles
To serve
2-3 little gem lettuces, leaves separated
50g chopped cashew nuts
2tbsp chopped, fresh coriander
1 sliced, small red chilli
1 lime, cut into segments

Method
1. Put the garlic, ginger paste, soy sauce a fish sauce in a bowl and mix it all together.
2. Add the Porky Down's sausage meat to the bowl and mix to combine all the ingredients.
3. Heat the sunflower oil in a wok or pan, add almost all of the spring onions. Cook for 2-3 minutes and then add the seasoned sausage meat. Cook for 8-10 minutes or until starting to go golden brown.
4. Add the noodles and cook for a further 2 minutes.
5. Now to serve, place the lettuce leaves on a large platter and top each one with sausage mix.
6. Garnish with the chopped cashews, coriander, remaining spring onions and he fresh red chilli. Cut lime into segments and serve on the side.
7. Enjoy!