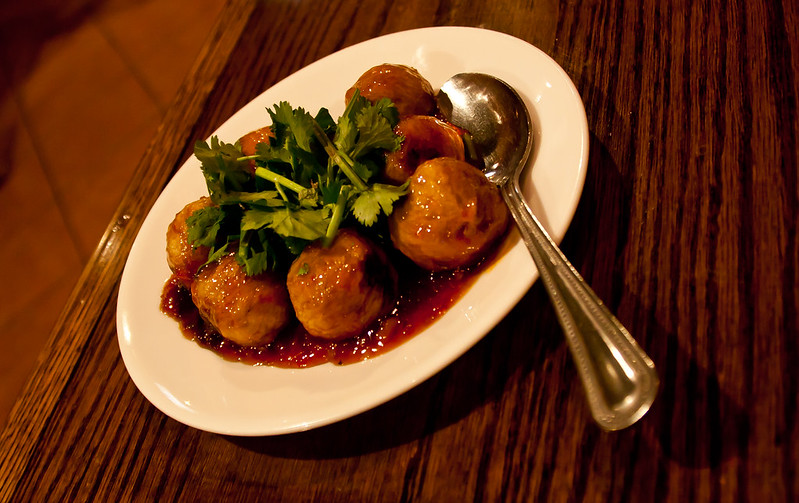 Meatballs are everyone's favourite! This Porky Down's recipe is toasted with pine nuts and delicious kale, this makes its a dish rich in vitamin C, also 2 of your 5 a day!
Ingredients
500g of Porky Down's pork mince
1 finely chopped onion
2 finely sliced garlic cloves
2tbsp olive oil
800g chopped tomatoes
1 zested lemon, cut into wedges
2tsp fennel seeds
250g kale
25g toasted pine nuts
To serve (optional)
Mashed potato or crusty bread
Method
1. Begin by heat 1tsp of olive oil in a pan over medium heat. Then add the onion and garlic to the pan and cook for around 5 minutes.
2. Witha splash of water, put the tomatoes in the pan too, increase the heat and allow to bubble for 15 minutes.
3. In a large bowl, mix the lemon zest, fennel seeds, porky down's mince and a pinch of seasoning. Mix well and then shape into walnut-sized balls.
4. Heat the rest of the oil in a lidded, frying pan over medium heat. Then add the meatballs and allow them to brown for around 5 minutes.
5. Then pour the tomato sauce into the pan, let this simmer for 10 minutes. Add the kale, cover with a lid and cook for 5 minutes more until wilted.
6. Season to how you like it and then scatter over the pine nuts, serve with the lemon wedges, for squeezing over.
7. Depending on whether you chose crusty bread or mash, serve with these too.
8. Enjoy!